RBHS Anti-Racism Initiative
The RBHS Anti-Racism Initiative was launched in Fall 2020. The goal of the initiative is to ensure that we are actively anti-racist in all our people-related practices, in our classrooms, clinical settings, and throughout our workplace.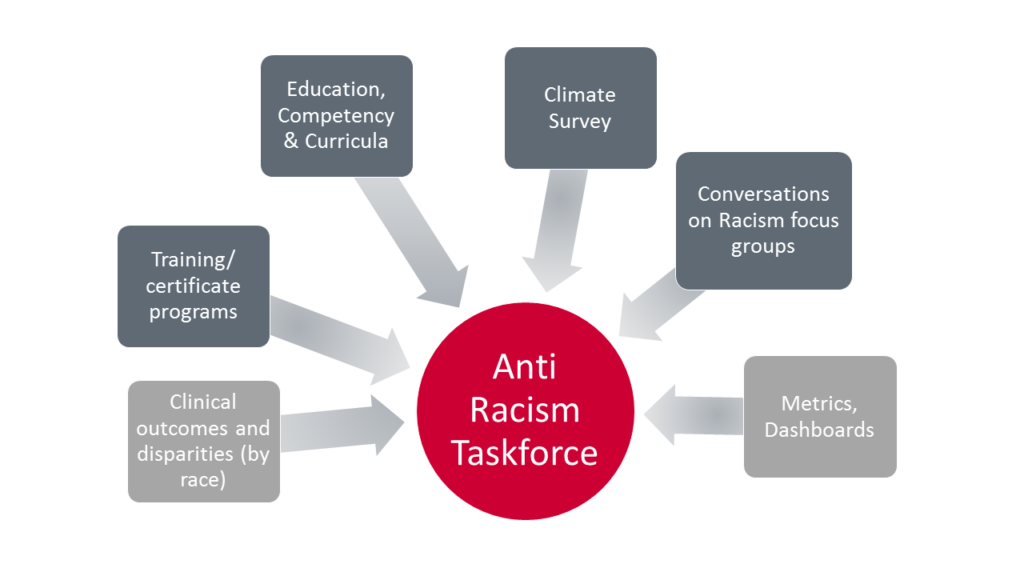 RBHS Anti-Racism Task Force
The overall Anti-Racism initiative consists of over 70 faculty, staff, students, and residents across all schools and institutes at RBHS.
Anti-Racism Task Force Members
Chair: Charlotte Thomas-Hawkins, Faculty, School of Nursing
Aditi Mahapatra, Student, School of Nursing

Antoine St. Victor, Student, New Jersey Medical School

Bianca Thompson-Owen, Staff, School of Health Professions

Brianna Mengini, Post-Doc, Ernest Mario School of Pharmacy

Evelyne Gone, Faculty, New Jersey Medical School

Gabrielle Jacob, Student, School of Public Health

Herminio Perez, Faculty, School of Dental Medicine

Humberto Jimenez, Faculty, Ernest Mario School of Pharmacy

Indira Amato, Faculty, Robert Wood Johnson Medical School

Jaya Sagatopan, Faculty, School of Public Health

Jerome Langer, Faculty, School of Graduate Studies

Joachim Sackey, Faculty, School of Health Professions

Jose Centeno, Faculty, School of Health Professions

Juan Alvarado, Student, Ernest Mario School of Pharmacy

Kimberly Deas, Student, School of Health Professions

Marc Berenson, Resident, New Jersey Medical School

Marc Sturgill, Faculty, Ernest Mario School of Pharmacy

Megan Maroney, Faculty, Ernest Mario School of Pharmacy

Memphis Diaz Garcia, Resident, University Behavioral Health Care

Michael Vega, Staff, School of Public Health

Monique Boliko, Post Doc, Ernest Mario School of Pharmacy

Nancy Cintron, Staff, Ernest Mario School of Pharmacy

Nandini Patel, Student, Ernest Mario School of Pharmacy

Nataki Douglas, Faculty, New Jersey Medical School

Nav Narayanan, Faculty, Ernest Mario School of Pharmacy

Patricia Whitley-Williams, Faculty, Robert Wood Johnson Medical School

Ravi Maharajh, Staff, University Behavioral Health Care

Richard Barnes, Faculty, School of Public Health

Robin Eubanks, Faculty, School of Health Professions

Sayeeda Suber, Staff, New Jersey Medical School

Shilpa Pai, Faculty, Robert Wood Johnson Medical School

Steve Glogocheski, Staff, School of Nursing

Teri Lassiter, Faculty, School of Public Health

Toluolope Fadahunsi, Student, School of Health Professions

Willetta A. Boswell, Staff, Cancer Institute of New Jersey

Zaire Ali, Student, School of Public Health

Zorimar Rivera-Nunez, Faculty, Environmental and Occupational Health Sciences Institute
Anti-Racism Task Force Workgroups
Climate Survey Workgroup
Co-chairs:
Nancy Cintron, Staff, Ernest Mario School of Pharmacy

Herminio Perez, Faculty, School of Dental Medicine
Conversations on Racism Workgroup
Co-chairs:
Patricia Whitley-Willams, Faculty, Robert Wood Johnson Medical School

Teri Lassiter, Faculty, School of Public Health
Education, Competency, & Curricula Workgroup
Co-chairs:
Jose Centeno, Faculty, School of Health Professions

Zorimar Rivera-Nunez, Environmental and Occupational Health Sciences Institute
Training/Certificate Programs Workgroup
Chair:
Sangeeta Lamba, Faculty, Rutgers Biomedical and Health Sciences