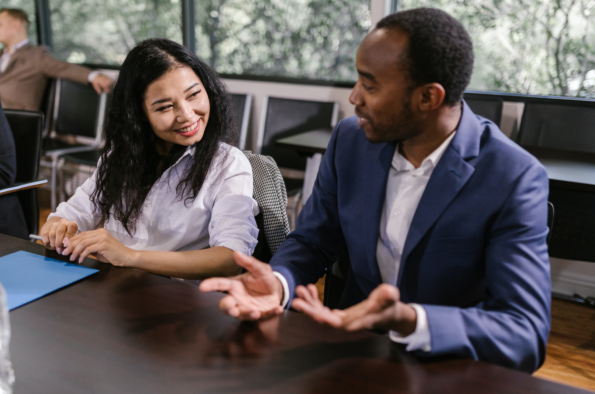 Peer Coaching Program
The Peer Coaching Program is a year-long cohort program that has been designed to support and nurture diverse emerging leaders at RBHS through a collaborative network of peer coaching relationships. The program is grounded in the belief that participation in a trusting environment with colleagues who support and facilitate self-directed learning, everyone has the capacity to develop solutions, clarify priorities, and remove roadblocks in their own unique way through coaching conversations that provoke new insights. This pilot program launches in September 2022. The application period is April 14th-22nd. See below for program details and apply here. 
Program Goals
To initiate a culture of coaching across difference at RBHS by creating a network of peer coaches and an affinity space for women faculty and faculty of color at RBHS.​

To build coaching capacity for faculty at RBHS by providing peer-coaching curriculum and training modules.

To foster a greater sense of belonging, self-efficacy, and a commitment to personal and professional growth across diverse biomedical and health sciences faculty at Rutgers.
Program Outcomes
As a result of this program, participants will. . . 
Form trusting relationships with colleagues in a nurturing environment that encourages self-examination, learning, and professional growth. 

Gain clarity and develop new insights to advance one's own individual professional development to achieve desired performance goals. 

Experience sustained support and encouragement for the pursuit of one's personal and professional development and the achievement of desired performance goals. 

Develop increased confidence in one's ability to solve problems and make decisions.

Create and sustain an accountability structure to support oneself and colleagues.
Program Details
The application period is April 14th-22nd;

apply here

Three workshops to train peer coaches​

Coaching fundamentals: Active listening & building relationships, Friday, September 30, 2022 (90 minutes)​
Gaining new insights, October 14, 2022 (60 minutes)​
Tracking progress toward goals & accountability, November 4, 2022 (60 minutes)​

A schedule of peer coaching sessions (dyads meet once per month for a total of 10 sessions)​

Full-group and Pod check-ins on (Feb 17, 2023 & June 9, 2023)​

On-demand support throughout the year for peers​

Three individual coaching sessions for each participant with a certified coach