SEA CHANGE BIOMEDICINE
RBHS is a proud member of STEMM Equity Achievement (SEA) Change Biomedicine.
One of the most challenging issues facing higher education today is cultivating diverse campus communities that are truly equitable, accessible, and inclusive. Achieving this goal has proven to be especially difficult in STEMM fields (science, technology, engineering, mathematics, and medicine), where bias, marginalization, and exclusion on the basis of gender (including identity and expression), race, ethnicity, disability status, socioeconomic status, sexual orientation, age, familial history of higher education, as well as the intersections between these identities, have prevented the full engagement of all individuals.
How do we untie ourselves from the practices of the past that made inequities possible, indeed, almost inevitable, and are allowing them to persist?
SEA Change is a comprehensive initiative from AAAS that implements a proven self-assessment process to effect sustainable change with regard to diversity, equity, and inclusion in STEMM at U.S. institutions of higher education. 
SEA Change Biomedicine is action-oriented and stands to publicly acknowledge the continuous journey toward equity in medicine and science at medical schools and academic health science centers.
This tumultuous time has created an opportunity for institutions to move beyond statements to action, to engage in systemic transformation on the path to becoming genuinely equitable, inclusive, and diverse environments. Central to SEA Change Biomedicine's success will be the adaptation and co-creation of a national framework, process, and metrics for self-assessment to create enduring systemic transformation while accounting for each academic health science center's complexity. Learn more about AAAS SEA Change Biomedicine. If you have questions about RBHS participation in SEA Change, contact Humberto Jimenez, PharmD, MPH, Director of Diverse Scholar Engagement and Advancement. 
Goals
SEA Change seeks to inspire, guide, and support transformation of STEMM fields in colleges and universities so the community-building, work, products, and practitioners exemplify excellence, equity, diversity, and inclusion. It is a movement toward institutional transformation beyond small-scale interventions.
The goals are to:
Focus institutions on identifying the policies, processes, programs, and practices that perpetuate exclusion and create systemic barriers to true diversity, equity, and inclusion.
Publicly acknowledge the continuous journey toward equity in medicine and science at medical schools and academic health science centers
Bronze Award
RBHS is applying for the SEA Change Biomedicine Bronze Award. The application process includes: 
Participation in a two-year immersive cohort with other SEA Change Members led by SEA Change staff that will help guide your self-assessment and action planning processes

Conducting an internal self-assessment across a broad range of categories, from career progression to sexual harassment policies, using questions rooted in promising practices for diversity, equity, and inclusion in higher education

Developing a specific, measurable, achievable, relevant, and time-oriented (SMART) action plan to guide the institution forward with a focus on diversity and inclusion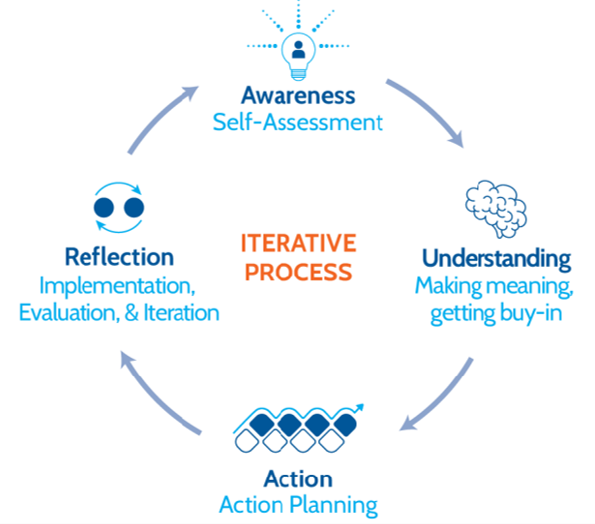 Organizational Structure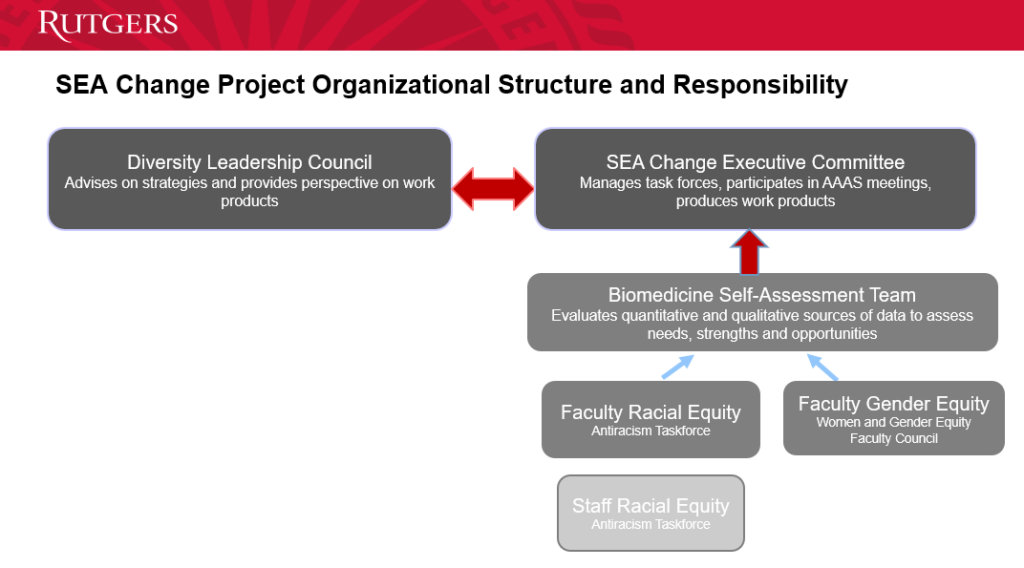 Biomedical Self-Assessment Team
Faculty Racial Equity
Co-chair: Jerry Langer, School of Graduate Studies
Co-chair: Tracy Davis, School of Health Professions
Richard Barnes, School of Public Health
Caroline Dorsen, School of Nursing
Robin Eubanks, School of Health Professions
Joel Freundlich, New Jersey Medical School
Haejin In, Cancer Institute of New Jersey
Humberto Jimenez, Ernest Mario School of Pharmacy
Sangeeta Lamba, New Jersey Medical School   
Teri Lassiter, School of Public Health
Ibinyo Lawrence, Robert Wood Johnson Medical School
Shilpa Pai, Robert Wood Johnson Medical School
Herminio Perez, Rutgers School of Dental Medicine
Rafael Pérez-Figueroa, School of Public Health
Zorimar Rivera-Núñez, EOHSI & School of Public Health
Rachel Rosenberg, New Jersey Medical School 
Charlotte Thomas-Hawkins, School of Nursing
Patricia Whitley-Williams, Robert Wood Johnson Medical School
Faculty Gender Equity
Co-Chair: Sangeeta Lamba, Rutgers Biomedical and Health Sciences
Co-Chair: Patricia Fitzgerald-Bocarsly, Rutgers Biomedical and Health Sciences
Melissa Alvarez-Downing, New Jersey Medical School
Diane Calello, New Jersey Medical School
Nataki Douglas, New Jersey Medical School
Heba Elkassaby, Rutgers School of Dental Medicine
Ashley Grosso, School of Public Health
Wei Huang, Rutgers School of Dental Medicine
Cynthia Koziol-White, Robert Wood Johnson Medical School
Carol Lutz, New Jersey Medical School
Rachel Meyers, Ernest Mario School of Pharmacy
Lori Palfreyman, School of Health Professions
Shelby Pitts, School of Nursing
Phoebe Stapleton, Environmental and Occupational Health Sciences Institute
Riva Touger-Decker, School of Health Professions
Laura Willet, Robert Wood Johnson Medical School
Staff Racial Equity
Co-Chair: Ravi Maharajh, University Behavioral Health Care
Co-Chair: Steven Glogocheski, School of Nursing
Nancy Cintron, Ernest Mario School of Pharmacy
Tynisha Coleman, Rutgers Biomedical and Health Sciences
Thaddaeus Diggs, Rutgers Biomedical and Health Sciences